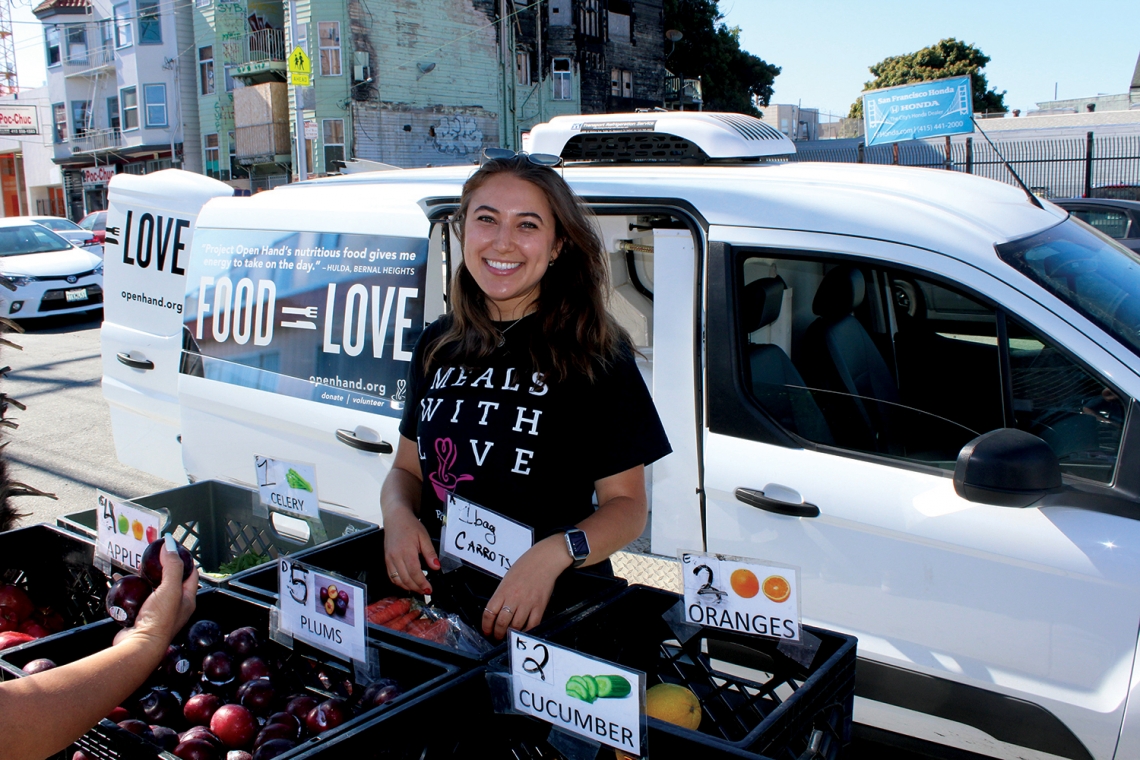 A white van pulls into a designated parking spot on 16th and Shotwell Streets on a late Tuesday afternoon.
Isabel Eskin Shapson exits the driver's side and opens the van's sliding door. She pulls out a table and unfolds it on the sidewalk. She places crates filled with produce onto it, and keeps the van doors open to access coolers filled with dairy and proteins.
Isabel has set up a farmers-market style display in just a few minutes, and a group of people are already gathered in front of the table.
But this is not a typical San Francisco farmers-market stand. This is the second stop of the day for Isabel, who travels in the Project Open Hand Mobile Grocery Van out into the community every Tuesday to bring nutritious foods to clients who have mobility or transportation issues.
Isabel grew up in the Richmond and Haight neighborhoods and went to high school in the city. She attended George Washington University in Washington D.C. and received her degree in international affairs with a concentration in global public health.
After college, she travelled to Peru in 2016 and worked for an organization focused on preventative health education.
Isabel returned to the city after a year and a half in Peru, and picked up a job as a temp at a law office soon after. But in her heart, she knew exactly where she wanted to permanently land.
"(Project Open Hand) is such a pillar of the non-profit community here," she said. "For me, being especially interested in the intersection of nutrition and public health...that is where I wanted to be."
As the community outreach coordinator, Isabel communicates with community groups for client referrals, attends outward-facing events to promote services, and builds awareness about the organization's Community Nutrition Sites, where low-cost daily meals are served to seniors and adults with disabilities.
But her work with the Mobile Grocery Van is where she shines.
Her preparation begins days in advance. On Fridays she requests an order of groceries. On Mondays, she will communicate with contacts to remind them that the grocery van will be in their neighborhood. She also speaks with new or existing clients who are interested in the grocery van option.
When Tuesdays arrive, she is off and driving. She visits the Bayview around noon. When clients arrive and sign-in, she helps them shop for groceries from the condensed Project Open Hand shopping list. She also answers any questions from clients and non-clients alike.
After the Bayview visit, she travels back to the POH Grocery Center on Polk Street to restock the van and heads right back out to the Mission District.
"I think it's important to have this service in the community. A lot of our clients have mobility or transit issues that make it difficult for them to come all the way over here (to the San Francisco Grocery Center)," Isabel said.
The Project Open Hand Mobile Grocery Van has pickup locations in the Mission District and Bayview. Help us continue this much needed service for our clients who face mobility or transportation issues by donating at https://www.openhand.org/donate.