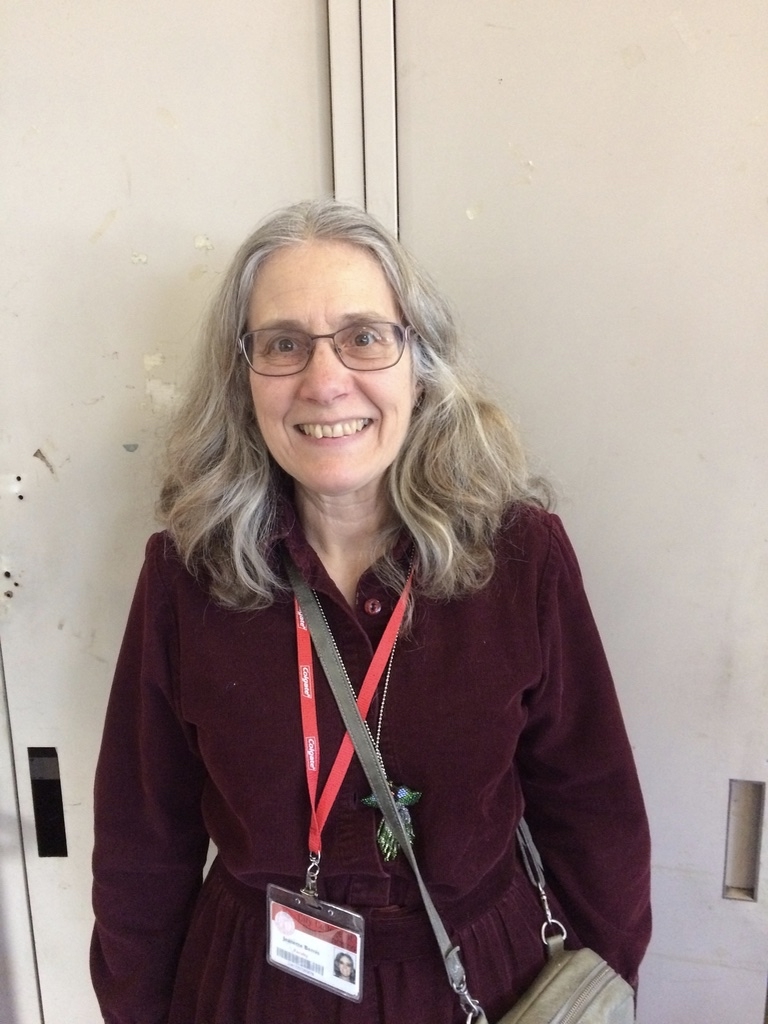 Jeanette Bemis is a City College of San Francisco health educator who spends 36 weeks a year with the community nutrition clients of Project Open Hand. She has been teaching classes for over 25 years, and in some cases, has been a consistent presence at meal sites before Project Open Hand even began serving lunch!
Approachable and warm, Jeanette is also a font of knowledge. Recently, she was at the "Nabe," which is a large dark wooden building that is equal parts clubhouse, community center and gathering spot atop Potrero Hill. The Nabe has its own successful 2017 fundraising calendar, bringing in over $8,000 and saucily titled, "Honeys Over the Hill" because it features women who are of a certain age.
Jeanette greets each community nutrition client. The scene feels vibrant and social – although it is not recommended to interrupt or otherwise talk to any of the handful of clients when they play bingo. Bingo is a serious matter and BYO coins for the daily game.
Because she is 65, Jeanette thinks it is easier for Project Open Hand clients to relate to the information she provides. Her teaching approach is relaxed and thoughtful, and she has also taught life skills as well as dental hygiene earlier in her career. A neighborhood woman nods her head as Jeanette met with her to talk about healthful changes before lunch. Jeanette told the woman that genetics can't be changed but other things like habits can.
She has been working the Nabe lunches for over 5 years and works with clients at the Curry Senior Center in the Tenderloin – which she's done for 22 years. Her own mom was a student in a nutrition class when she was in her 90s, after her mother stopped driving. For site visits, Jeannette brings a one-page crossword puzzle so that clients all have something to do as well as a one page nutrition handout.   
Upbeat Wham music plays from a radio near a wooden piano, and each of the six tables in the sunny lunch room has floral table cloths. Closer to the piano, a bingo wheel is set up by Dolores – she does everything from call out bingo to setting up the hot food after it is delivered by Project Open Hand. Dolores and her crew of female volunteers systematically plate and serve from a silver steam table. After bingo, Jeannette gives a brief talk about eating more unsaturated fat from healthy sources such as nuts, avocados and vegetable oils. Jeannette ends her talk by seguing into how much she looks forward to eating fish for lunch. Some clients watch her and nod as they chew their food. Jeanette tells me that often when she works with Project Open Hand senior clients because she wants to make sure that they get enough nutrition daily – for many, their POH lunch may be the only meal of the day. 
Jeanette tap dances with the senior clients, including at a big 80th birthday party for Jimmy - that party happened in a bigger ballroom that is just steps away in the same building. For our lunch, Jimmy wears glasses with big frames and a colorful shirt – fashion appears to be his passion. For the month of March, Jeanette is featured in the "Honeys" calendar, which evolved from her work and friendships at the Nabe.

Click here for more information about Project Open Hand's Community Nutrition Program. 
Mary Ladd's writing has appeared in Playboy, Time Magazine, KQED, & San Francisco Weekly. She is currently working on The Wig Report, a hilarious book project on catastrophic illness. Mary went through 22 rounds of chemo, 7 surgeries, 8 infections, 49 blood tests, and completely lost her hair, eyebrows, and 30 pounds… but gained 4 wigs and many fashion finds in the process