Venue:
Castro Theatre, 429 Castro St, San Francisco, CA 94114
.
"The Ruth Brinker Story" will be premiered at the iconic Castro Theatre in San Francisco, located in one of the first neighborhoods where Ruth delivered meals during the early days of the AIDS epidemic in the 1980s.
The day will include multiple screenings of "The Ruth Brinker Story" during the day, followed by a special Red Carpet Premiere Event that will include a panel discussion featuring the filmmaker, Apo W. Bazidi. 
And since May 22nd is Harvey Milk Day, screenings of "The Times of Harvey Milk" will be shown at the Castro Theatre throughout this very special day of celebration.  
Showtimes - Sunday, May 22nd -
2 pm "The Ruth Brinker Story" (approximately 25 minutes)
3 pm Double Feature "The Ruth Brinker Story" / "The Times of Harvey Milk" 
6 pm Red Carpet Premiere Event
         A premiere showing of "The Ruth Brinker Story" followed by a Q&A with the filmmakers and
         guest speakers. The red carpet begins at 6:00 pm. The film starts at 6:45 pm.
         Attire: Spring Glam.
Link to register for a free ticket to an 11 am showing of "The Times of Harvey Milk" coming soon.
Special Premiere + VIP After Party
Join us for the premiere showing and after party!
After the Q&A, a VIP after party will be held in the Castro Theatre's Mezzanine. There will be light food and beverages, with a limited selection of signature cocktails presented by Tito's Handmade Vodka. VIP After Party guests will also receive a commemorative ticket and T-shirt.
The red carpet begins at 6:00 pm. The film starts at 6:45 pm. The after party begins at 7:30 pm. Attire: Spring Glam.
Please note that the Mezzanine level is located on the 2nd floor and does not have elevator access.
About "The Ruth Brinker Story"
At the age of 63, retired food-service worker Ruth Brinker became a pioneer of HIV care in her community and would become a legend among San Franciscans. The AIDS epidemic hit San Francisco the hardest and created a wave of fear and uncertainty that left many victims feeling hopeless and alone. Brinker, a woman whose deep compassion became a source of strength for others struggling to cope with the times, began cooking meals in her kitchen to deliver to her neighbors who were too ill to take care of themselves. Her goal was to not only provide meals but to also revitalize the city's sense of community and spend time with HIV/AIDS patients to end the isolation they experienced. Providing meals with love became the hallmark of her mission. The work of Brinker and her growing team of volunteers led to Project Open Hand, the largest provider of nutrition to the HIV/AIDS community with sister organizations across the country. Ruth Brinker's legacy carries on today as Project Open Hand has once again joined the frontlines in facing the crisis of the COVID19 pandemic.
About the Filmmaker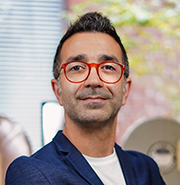 Apo W. Bazidi was born in Eastern Turkey to Kurdish parents. He grew up amid the social injustices and inequality that beset his community. These experiences drove his desire to become a storyteller so he could shed light on these important issues. After high school, he immigrated to the United States and went on to graduate with a Bachelor of Arts in Film & Television Production from the University of Southern California in 2011.

Apo's films are primarily concerned with social issues and the importance of global cultural interactions. His feature film, Resistance is Life, won eight festival awards including six for Best Documentary Feature. Apo believes in making a positive change through visual storytelling. His lifelong motto is to "be creative and inspire".
Apo is the founder and CEO of Burn A Light Productions.

Volunteers Needed
For questions or to learn more information about this event, please contact [email protected]
We look forward to seeing you!
Event Sponsored By