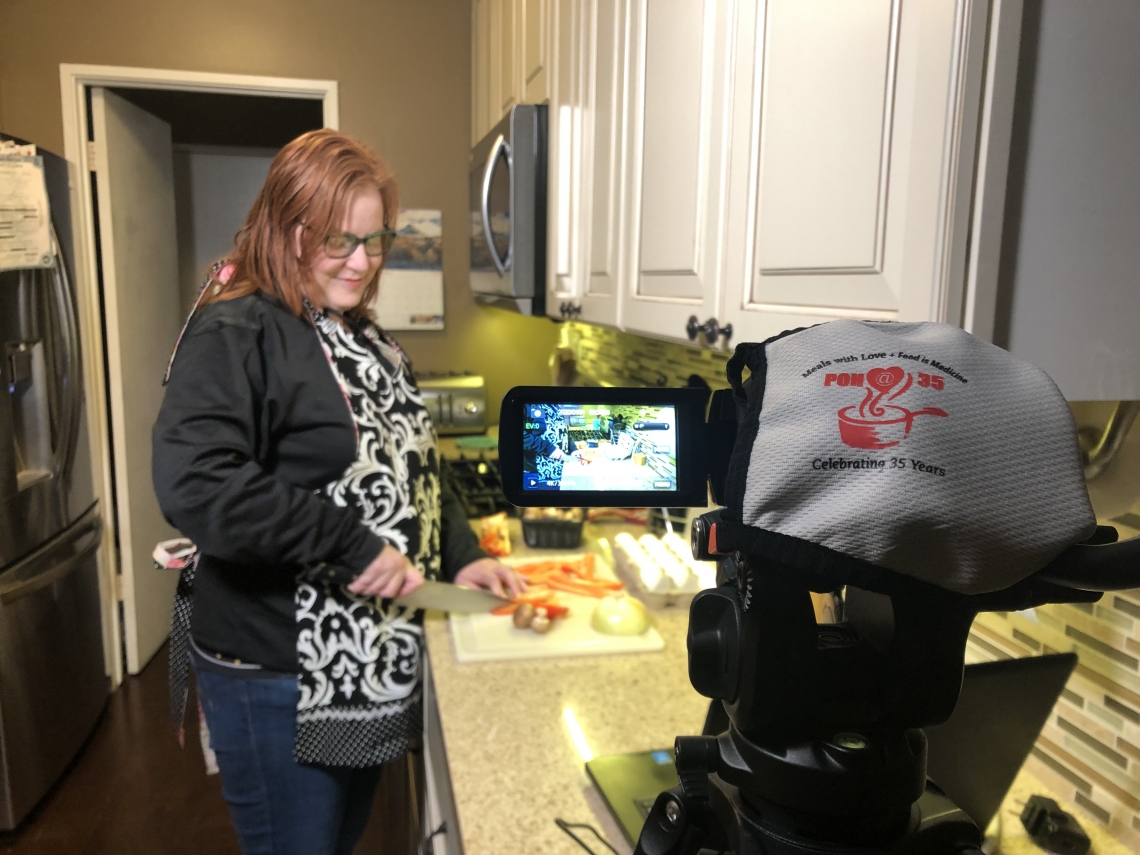 Registered Dietitian Nutritionist Jenna Miles is hosting a cooking class for clients who are watching intently. She has a variety of vegetables on her cutting board including mushrooms, onions and red bell peppers.
She begins julienning the red bell pepper and explains to the audience what dish she is making and the nutritional value of each item on the cutting board.
Like any live cooking class, clients are encouraged to ask questions, which Jenna answers in-depth. It's a unique opportunity for the viewer to interact with the host.
But this is not a normal cooking class. Jenna is teaching her class out of her home kitchen with a complete setup including lighting equipment, digital camera, and laptop.
And the clients are participating virtually through a Zoom platform. "Normally we would love to host a cooking class in-person with our clients. But due to COVID, we are always having to adjust to meet our clients' needs and enhance their experience with us," Miles said.
Project Open Hand plans to teach ten virtual cooking classes like these, spread out over the next few months. We partnered with the Alameda County Health Department (ACHD) to teach two classes to select participants; four to participants from Roots Community Health Center in Oakland, and four to Spanish-speaking participants from Alameda County's Tiburcio Vazquez Health Center.
Each class consists of ten participants. All of them are East Bay residents with diabetes. That's why our classes are prepared with the goal of increasing their self-efficacy by cooking foods and meals that will help them manage their diabetes.
A different recipe is taught during each class. In addition to simply demonstrating how to cook a recipe, the ingredients are shipped to the participants' homes. Our dietitians teach basic knife skills, and pertinent nutrition information about each ingredient, and how it will benefit their health.
Each class is one hour long and takes place over Zoom.
"These classes have improved the client experience in the East Bay by allowing people to stay safe at home during the pandemic, while still gaining valuable skills in cooking diabetes-friendly dishes. It also benefits our participants by providing them, for free, the ingredients to make these healthy recipes," Miles said.
"I've received lots of positive feedback so far about how these classes have helped our participants increase their knowledge and understanding of nutrition for improved diabetes management."
It appears that Jenna and the Nutrition Team have figured out a recipe for success in enhancing the client experience, virtually. This is only possible because of your support. Thank you!