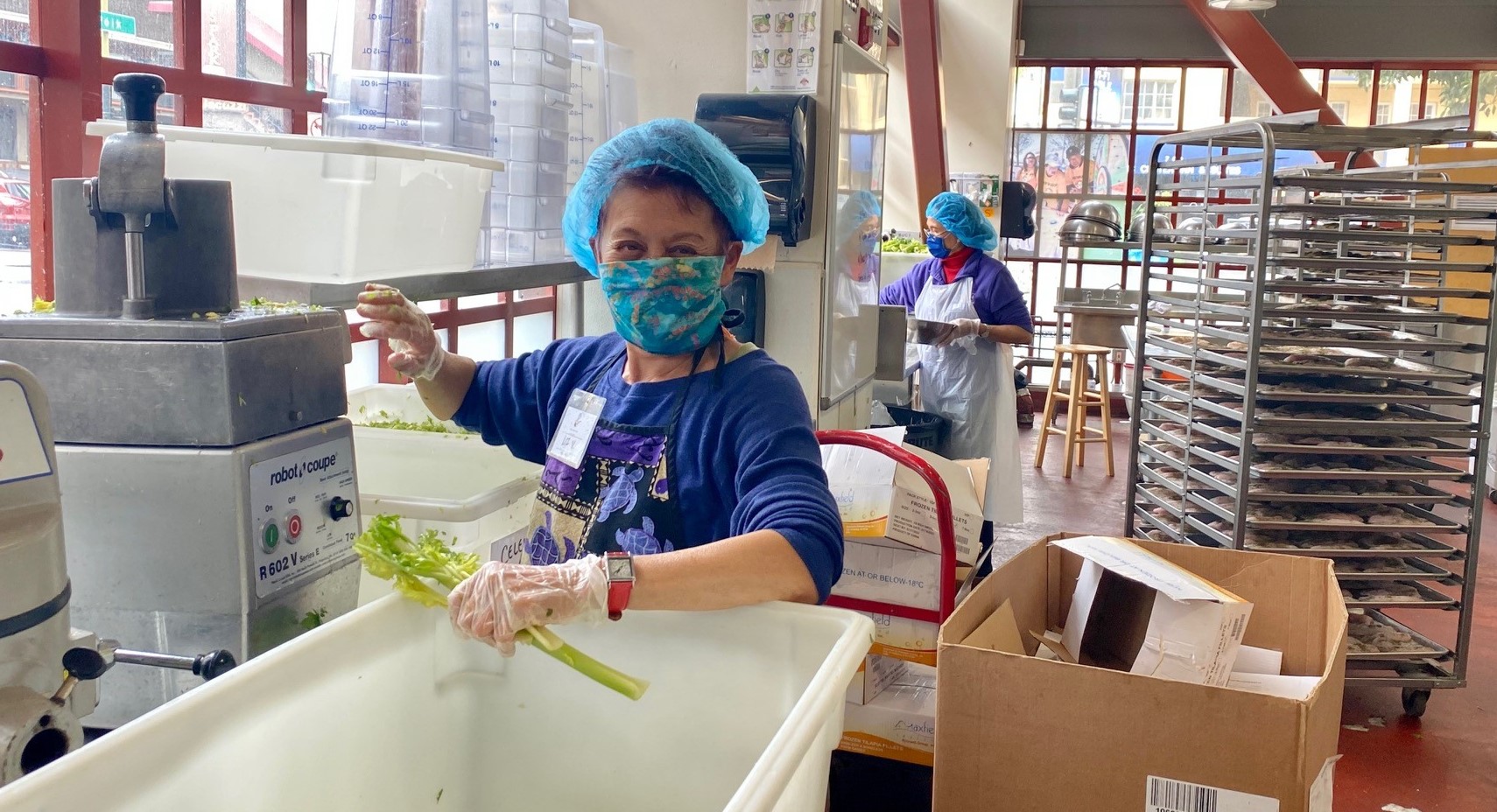 Help fill our most urgent volunteer needs!
Please review our guidelines before signing up for a shift. 
Vaccine Requirement: Provide proof of COVID-19 vaccination prior to your scheduled shifts or in-person to a Volunteer Coordinator on the day of your shift.
Health Guidelines: Check your health prior to arriving to your scheduled volunteer shift and wear a mask or face covering at all times. If you feel sick, please stay home.
Minimum Age Requirement: 15 years old
Community Service Hours: If you have court-ordered community service hours to complete, you MUST notify Volunteer Services via email

[email protected]

.
---
Prepare and Package Meals 
Location: 730 Polk St.
Tasks include packaging and labeling prepared meals in containers and assembling frozen-meal bags. Volunteers must:
Practice safe steps in food handling and preparation: wear protective gear (hats/hairnet, beard guard, and gloves) during entire shift and thoroughly wash and sanitize hands.
Follow all instructions and directions given by staff, whose main goals are the quality of the meals and safety of clients, volunteers and staff alike.
Be able to lift up to 25 lbs. and stand for the entire shift.
---
Special Events
Sunday, August 7, 2022 | San Francisco
The Richmond/Ermet Aid Foundation proudly presents Help is on the Way XXVI: Broadway & Beyond benefiting Project Open Hand!
Help is on the Way is an elegant gala featuring stars from Broadway, film, TV and the recording industry. This Gala Event consists of a Broadway-style performance at the Marines' Memorial Theatre and an after party with the cast at the Beacon Grand Hotel.
We are looking for friendly, energetic volunteers to help make Help is on the Way a successful event! Volunteers assist on the event day with set-up, dinner service, silent auction monitoring and spotting, after party assistance and clean up.
---
If you are looking for a different way to help, we are accepting the following donations:
New, unopened Toiletries 
Birthday or Holiday cards
Food donations. We accept foods from licensed or regulated food service providers (restaurants, grocers, bakeries, etc).