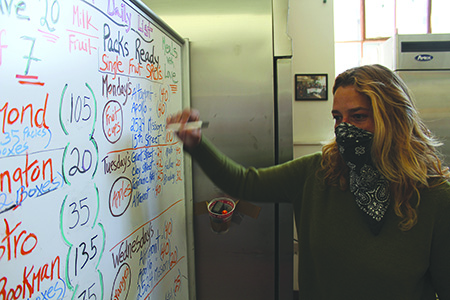 Erika Molina always kept an ear out for the doorbell. It was the most important duty of the day for her.
When the doorbell rang, she would head to the entrance and open the front door. But she wasn't welcoming
the mail-carrier or a visitor. It was a Project Open Hand delivery driver, who had hot meals to give her.
Over 30 years ago, Erika would visit her father and his partner in a hospice house in the Castro District of San Francisco. The house took care of gay men who were experiencing the effects of HIV/AIDS and were too ill to leave their beds. Her father's partner was one of those taken care of by the staff and Erika. Her job -- take the Project Open Hand meals she received from the delivery driver to the bedside of her dad's partner and all other men in the house.
It was this early-life experience that laid the foundation for a life and career dedicated to helping others.
"I grew up seeing my father's partners and friends go through HIV in the 90s, and my mind was already set that I wanted to be a part of those people who help that community," Molina said. "I didn't have to choose what I wanted to do. I always knew."
Molina, a Bay Area native who received a bachelor's degree in psychology from San Francisco State University and a master's degree in public health from Argosy, started out working in public health at the age of 18 in Contra Costa County where she worked with teenagers getting them access to sexual health care services. She then moved on in the public health sector, working with the San Francisco Public Health Department in the HIV research section and various other agencies that provided important services to the HIV/AIDS community.
"I had a goal to go back to work through the different agencies that helped my community when I was growing up," Molina said. "I knew that there were levels I always wanted to tackle.
"The direction of HIV prevention changed. It became a more holistic approach. What else goes into it? It's the lack of your foundations – housing, community and food. There are layers of priority for people and their health, and nutrition is one of them," Molina said.
Her path to Project Open Hand seemed almost pre-determined, and it came to fruition in August of 2017 when the organization was hiring a Director of Community Nutrition Program (CNP), that provides nutritious meals to older adults and adults with disabilities in San Francisco in a communal setting.
"I was really excited about this position. I used to refer clients to Project Open Hand. I even walked a few of them to 730 Polk Street," Molina said. "Programs and public health create community. I feel the importance of it. I am a product of it, and it felt right."
As the director of the CNP program, she manages a staff of over 20 and ensures that the over 4,000 clients the CNP program serves are receiving meals 365 days a year.
This was of course particularly difficult during COVID-19. In this time, Molina helped shift CNP operations from a communal setting to pick-up or delivery of frozen meals with select sites serving hot to-go meals. She said the transition was tough, but "CNP didn't skip a day," because of the number of people who stepped up in the organization from different departments to help out.
The next challenge for Molina is reopening 12 CNP sites for clients - many experienced the health detriments of social isolation - so that they can enjoy meals in a communal setting with friends again.
"It's like opening a number of new restaurants at multiple locations at the same time. We have to do it thoughtfully and safely for our clients and staff," she said.
Over 30 years ago, Erika received hot meals from Project Open Hand. Now, she is the one helping to provide meals to the community.
"Now I get to be the one to make sure the people get the food when they need it. It makes me tear up just thinking about it, because I remember being in that position 30 years ago, waiting for that delivery of food. I don't take it for granted because I know what it can be like on that other side."