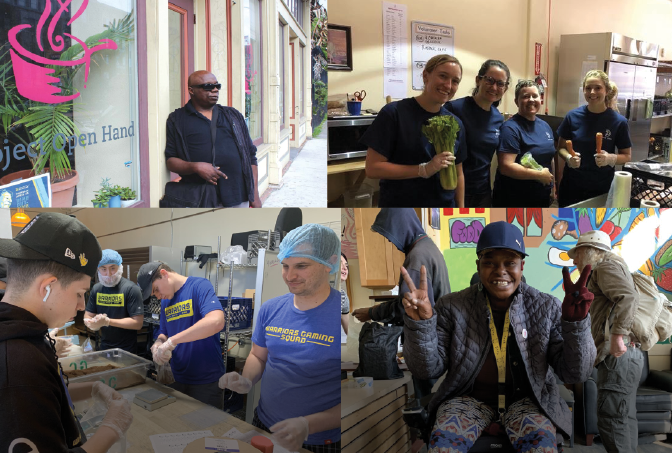 When you approach 1921 San Pablo Avenue in Uptown Oakland, you'd think you're visiting a chic boutique shop.
Indoor plants and succulents line the windowsills of its two large windows. The entrance door appears to be dated to another time in Oakland's architectural past.
But appearances are just that – appearances. Because inside this 2,200 square-foot space, nestled in between two store fronts, is Project Open Hand's East Bay Office and Grocery Center, humming with activity.
Clients are shopping for their groceries. Meal deliveries are being coordinated. Registered dietitian nutritionists are conducting in-person and virtual meetings with clients.
Project Open Hand, which started providing services to East Bay clients since 1989, has now become the largest medical nutrition provider in Alameda County, serving 245 clients weekly with meals and groceries and making more than 170 deliveries per week in communities like Oakland, Berkeley, Hayward, and Alameda.
While services must expand to meet the needs of Alameda County Clients, the small building we operate out of has not experienced the same growth. But that will all change soon with improvements that will enhance the client experience!
Last year, the office next door became empty and thus the opportunity to lease the space.
The Executive Team and the property owner are currently designing the secured, 4,400-square-foot space. The new enhancement would improve the client experience with an expanded client and grocery center that would increase distribution and operational capacity.
Currently, 1,227 meals are distributed weekly out of the Oakland location.
"Project Open Hand San Francisco has a community center where it's like a beacon in the neighborhood. It's a place where you can come and speak with staff in a confidential space. During non-pandemic times, food demos and classes really enhance the client experience. That has been limited in Alameda County," Ana Ayala, Vice President of Programs said.
"Here in Oakland, we don't really have the same community center due to space limitations. We have a tiny lobby where people come in and check in. They can chat with someone, but it's not the same experience. It's our responsibility to make sure all our clients receive the same level of services," she said.
The new space will also help improve the experience for staff members and volunteers.
Currently there is no break room for the 8 to 12 staff and volunteers to enjoy their lunch.
There's no private meeting space. With the expansion, staff will have dedicated cubicles for operations, additional meeting rooms, and improved infrastructure such as more permanent storage and refrigeration fixtures to make the space more useful and efficient.
"As a whole, spaces that had to pull double and triple duty can now be dedicated to a staff member," Vice President of Operations, Jonathan Jump, said.
Although volunteer shifts are still limited due to COVID restrictions (two volunteers per day), the enhancement will allow for more volunteer opportunities for supporters and corporate groups.
"In San Francisco, our building is a community space that draws volunteers. It resonates in the community at large as a space to be in, contribute to and participate in. It's one of the more fun volunteer experiences because we created such a welcoming place."
"In Alameda County however, we had to limit groups. The expansion will improve the volunteer experience and ensures the community can connect with our mission and our service model," Ayala said.
The project to enhance the East Bay client experience received a huge boost this past winter during the Holiday Meals with Love Challenge — supporters helped us reach our goal of $260,000. Also, all gifts were matched up to that amount thanks to the commitment of the Project Open Hand Board and a group of generous donors.
We still need help to improve the client experience and reach even more clients in the East Bay.
Please consider a donation at www.openhand.org/donate today! Thank you!