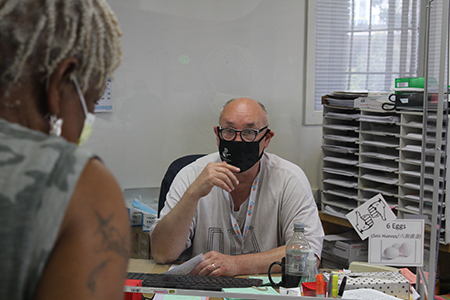 Meet Joe Wicht
Client Engagement Specialist Joe Wicht is a pianist, and a good one.
For the past 14 years, he has played at Martuni's, a popular night spot where patrons belt out tunes to whatever song they ask Joe to cover.
"It's an open MIC, and I'm the orchestra," Joe said.
But what he really loves doing is composing his own music to a poem — just don't ask him to write the words.
"I'm not a wordsmith. I find a poem that says something that I would like to say to someone else. It's hard to find a poem that doesn't speak to you about somebody or something you've experienced. When I'm composing, I take those words and make it musically to what I would have done," Joe said.
And if it were his choice, he would do this every minute of the day.
"Piano playing is a great way to earn a living, but it doesn't come with insurance, which is why the day job comes in handy," Joe says jokingly.
Joe, who grew up in Virginia Beach, Virginia, started his "day job" with Project Open Hand in 2004 after 10 years working as a sign-language interpreter in the San Francisco public school system. He came to Project Open Hand because he wanted to work with adults in a public-service setting, especially those who were diagnosed with HIV.
"I knew the world of gay men living with HIV." Joe said. "It was important for me to get involved in something HIV-related like Project Open Hand. It was a natural fit."
When he first started, his title was receptionist, which he describes as a hands-off approach in his interactions with clients. He would essentially greet them, hand them important paperwork, and make them feel comfortable.
Then when management wanted to increase client engagement, Joe finally was able to connect with Project Open Hand clients beyond his normal duties.
"My duties became very hands-on. I engage our clients. Not only do I try to connect clients to other services in Project Open Hand, I try to encourage clients to link up with each other," Joe said.
"I want them to create their own sense of community. Not eat dinner alone or lunch alone."
Every now and then, Joe would arrange to have lunch with clients at a Community Nutrition Program site.
"I picked up a friendship with Joe, and I've met a lot of nice people because of Joe. This community I'm a part of now, I met through Joe," client Vicky said.
Although COVID drastically changed how clients and staff interacted, Joe was still connecting with clients who were sheltering in place by performing calls to check up on their status and find out if they needed help and Project Open Hand services.
Why does Joe go the extra step to connect with clients?
"I love folks that are fighting for all the joy in life, like Vicky," Joe said. "It gives me a reason to want to be here. If you want to fight this hard, I'm going to fight with you. I'm going to be here when you go through it."
Although his "day job" as a client engagement specialist takes him away from his piano, he finds inspiration from the connections he's made with Project Open Hand clients.
When a former client passed away, Joe composed a song with a poem in honor of that client.
When asked if there was a particular poem he would compose to music for Vicky, he replied, "I haven't found the right poem yet that says what I want to say to Vicky. But I will."
And when he does, she will be the first one to hear it.
Help us make a connection with more clients. Make a donation today.