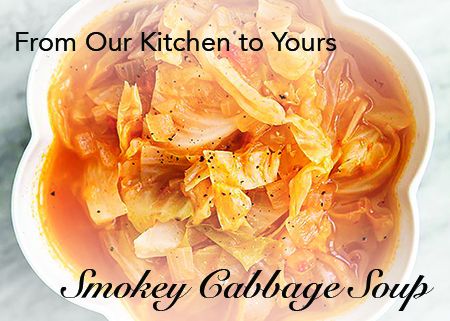 Smokey Cabbage Soup
Cruciferous vegetables like cabbage are unique in that they are a rich source of sulfur containing compounds called glucosinolates, which aids in the detoxification process in the liver. As a cruciferous vegetable, it also has some anti-cancer properties.
Cabbage is an excellent source of vitamin C, and tastes great raw or cooked (like in this soup!)
Our Registered Dietitian Nutritionists recommend you add cabbage to your diet two to three times a week.
Ingredients:
2 tbsp Olive Oil 
1/2 cup Onions, Yellow, 1/2" Diced
2 tbsp Garlic Cloves, Minced
2 tsp Paprika, Smoked
3/4 tsp Chili Powder
1/2 tsp Caraway Seed
6 oz Tomato Paste, Canned, No Sodium Added
1/4 cup White Wine, optional
14.5 oz Tomatoes, Canned, Diced or Crushed, No Added Sodium
1 tbsp Peppers, Chipotle, Canned, in Adobo Sauce, Pureed
1-1/3 cup Vegetable Broth or Water
1-1/2 tsp Dill Weed, Dried
9 oz Chopped Cabbage
1/4 cup Celery, 1/2" Diced
1/2 tsp Pepper Black, Ground
1/2 tsp Salt, Kosher
2 tsp Lemon Juice and Zest

Directions:
1. Heat a medium pot over medium high heat. Once heated, add in the oil and allow to heat up.
2. Add the onions and sauté until translucent, about 5-8 minutes.
3. Add garlic, paprika, chili powder and caraway seeds. Sauté until fragrant, about 2 minutes.
4. Add tomato paste and toast until color deepens, about 5-8 minutes.
5. Add wine, if using and reduce by half.
6. Add diced tomatoes, pureed chipotle peppers, broth and dill. Stir well. Cover with lid and bring to a boil.
7. Add cabbage and celery. Lower heat to a simmer for 20 minutes.
8. Season with salt and pepper to taste.
9. Add lemon juice and zest to brighten the flavor. Adjust to taste.