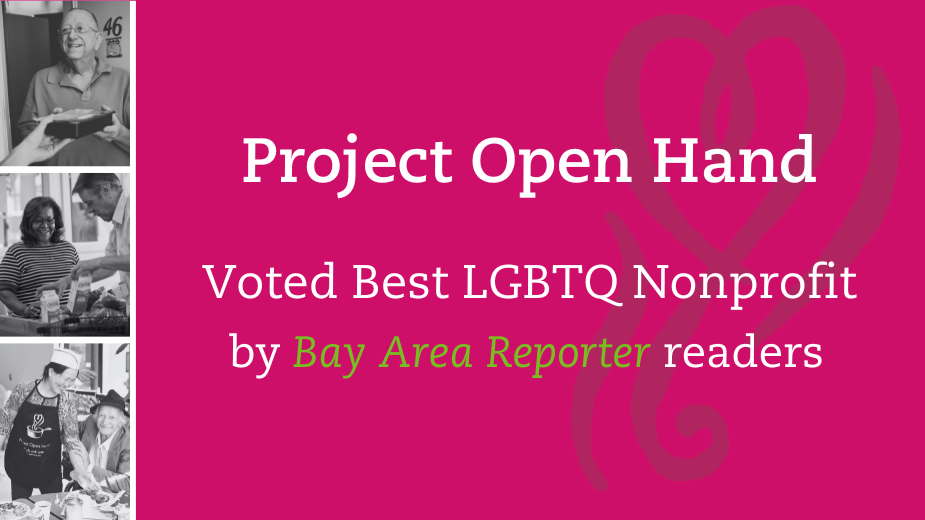 We're thrilled to announce that Project Open Hand was voted the Best LGBTQ Nonprofit by readers of the Bay Area Reporter! 
Every year, tens of thousands of Bay Area Reporter readers participate in their "Best of the Bay" edition by casting their votes for their favorite people, places, and things to do in the Bay Area.   
As the longest continuously-published and highest-circulation LGBTQ newspaper in the country, with tens of thousands of individual votes cast for the Best of the Bay edition, this is a great honor for Project Open Hand – and a testament to our unwavering commitment to the LGBTQ community.   
For over 35 years, Project Open Hand has served hundreds of thousands of Bay Area neighbors living with critical illnesses like HIV/AIDS, heart disease, and diabetes. Today, we provide nearly a million nutritious meals with love annually to help our clients recover from illness, get stronger, and lead healthier lives. 
Thank you to our dedicated donors, volunteers, and team members whose unwavering support and commitment to our organization have made this special honor possible. 
Check out the Bay Area Reporter's full "Best of the Bay" edition here.

---------------------------------------------------------------
Get Involved
 
We can't do this work without you! Help us continue our mission of serving meals with love in the Bay Area by donating or joining us at an upcoming event between now and December 31st: