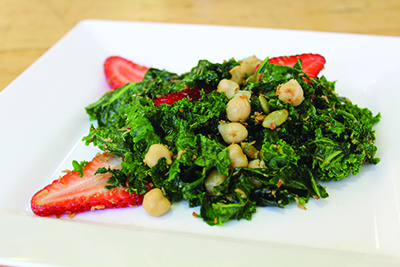 Strawberry and Green Salad
Ingredients
(Serves 2 for dinner, or 4 as a side)
1 large bunch green kale
½ teaspoon coarse sea salt
1 cup cooked garbanzo beans (or canned, rinsed)
½ cup chopped strawberries
¼ cup shredded coconut, unsweetened
¼ cup pumpkin seeds
 
Dressing:
½ cup olive oil
¼ cup apple cider vinegar
2 tablespoons nutritional yeast
Black pepper, to taste
Directions
Preheat oven to 200 degrees. Remove the stems from the kale leaves
and tear into small pieces. Add sea salt to medium-sized salad bowl
with kale, and massage handfuls until softened. Set aside. On a baking
sheet, toast shredded coconut for 5 minutes, until lightly golden. On a
separate baking sheet, toast pumpkin seeds until lightly golden, about
8 minutes. Set aside to cool. Add garbanzo beans and strawberries to
the bowl with salad greens and toss gently. Add toasted coconut and
pumpkin seeds to bowl and toss to combine.
 
For dressing, whisk the olive oil and apple cider vinegar with nutritional
yeast until mixed. Drizzle desired amount over salad. The remaining
dressing will keep in the refrigerator for up to 2 weeks