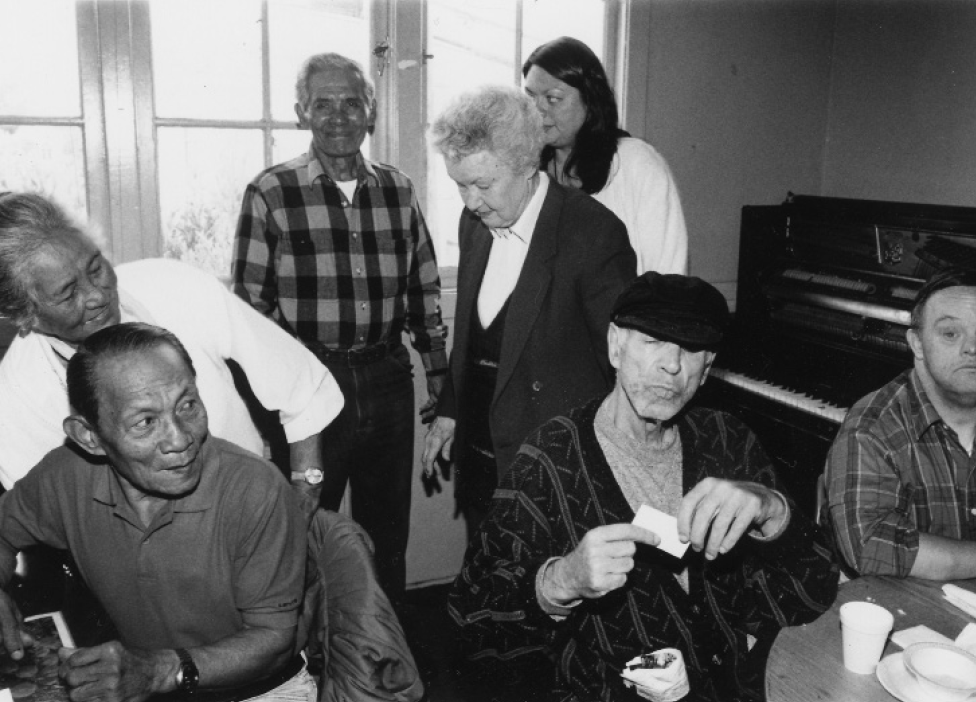 On Thursday, March 4, 2021 Project Open Hand celebrated the publication of Open Hearts, a hardbound, keepsake cookbook that featuring a biography of Project Open Hand's founder Ruth Brinker, plus 15 celebrity chef recipes, curated by chef David Verzello. As part of the book launch celebration, we asked Tom Nolan, Project Open Hand's second and longest tenured executive director, to dialogue about Ruth Brinker with Sausalito food and culture writer Sean Elder, the author of the Ruth Brinker biography. Due to the Covid-19 pandemic and shelter in place orders, the traditional in-person interviews conducted by an author for a biography were out of the question. Open Hearts was produced virtually, just like everything else in 2020. Project Open Hand CEO Paul Hepfer provided Sean Elder with a list of people to interview for the book. The challenge became how to find those critical sources. It would take some detective work on Sean's part. One of those valuable sources, a bit easier to track down, was Tom Nolan. Here are some highlights from Sean and Tom's conversation on March 4th:
Sean Elder

Writing this book was a joy, because everybody who knew Ruth, loved Ruth. When I started doing that early work of trying to figure out who was essential to talk to, a couple of names came up and the first was Tom Nolan. Everyone said, "You've got to talk to Tom. He's the guy he knew everyone from those early years." Ruth Brinker touched a lot of people, and Tom in particular had a lot of memories and the experience of working with Ruth Brinker. I only got to know her through interviews and reflections. So, Tom, can you tell us how you came to Project Open Hand and what you knew about Ruth before you came there.
Tom Nolan

I was a member of the San Mateo County board of supervisors from 1984 to 1991. I knew that Steve Burns, Project Open Hand's executive director for a couple of years, had left. His partner was from New York and was very sick with AIDS and Steve wanted to be back there. They did a nationwide search. I thought that my food experience to-date (busboy, waiter, bartender) didn't seem to qualify me for doing this. Yet the search committee called me and asked if I was interested. I interviewed for it and I was offered the job. I was delighted to accept. I knew all about Project Open Hand. We would come to San Francisco from San Mateo to meet with some of the AIDS organizations, leaders that included the AIDS Foundation and Shanti. I had known Ruth since 1986 and we became friends. I realized that when I got there, that she is such a treasure to the organization, such a powerful symbol, the whole, whole mission. Her love for people, you know? She came to a lot of our functions and she always had a twinkle in her eye, and was usually wearing a bright red suit. She got the first big grant for the building over at 17th street. She went into a corporate headquarters to see somebody and she was sure that she was going to get the money. How can you deny a little old grandmother in a red suit?
Sean Elder

I heard from people who had met Ruth at dinner parties in San Francisco, before Project Open Hand was even started, because she had gotten this notion to start feeding people. She realized people were dying, not just of AIDS, but of malnourishment and some cases, they were literally starving to death. So, she was going out and trying to do this on her own. One gentleman I spoke to had been to a dinner party where someone said, "Oh, this woman's coming. She's trying to start this thing." And he said, "what can I bring?" "Bring your checkbook!" And that's how she worked. She would go to these small gatherings and convince people to give whatever it took. The best stories I heard involved her going into gay bars and saying, "the city needs help. Your brothers need your help." This was a crisis. No one else is going to do it. The government was ignoring it entirely at the time. So, Ruth would go into the bar with a cigar box and collect money from people, and then take the cigar box of money and throw it in the boot of her car. And use that money to buy vegetables the next day, which I think drove some people in accounting crazy later on. She was good at the ask. Tom, you saw her in person. You saw her going out and doing that difficult work of getting people to contribute. I'm curious about that, because I think one of the reasons that she still inspires people is that it was the crisis at the time, but we've seen lots of crises since then, the last year or two in particular. I know people get overwhelmed and they feel like there's nothing they can do. And here was one individual who said, "I can do something."
Tom Nolan

She truly believed in the mission of the organization, a powerful and compelling vision that is with the organization to this day, meals with love for the persons at that time, persons living with HIV and AIDS. The crisis was so severe in the late eighties and early nineties, actually until 1996, until these protease inhibitors came along. You really couldn't walk around San Francisco anywhere without seeing these skinny little people who look like they'd come out of a war, or a concentration camp. They really looked that bad and had lesions all over them. Someone had to do something. And Ruth came up with this thing. So very simple: you can volunteer or you can write a check, and she was not afraid to ask for it. We had a huge base of community support. Ruth was at all the gay parades. She marched on Market street with a parasol and then she was at gay bars all over town. She was everywhere. I think that's what attracted people to her, her personality and her vision. She believed in it so much.
Sean Elder

Did you get pressed into service? I think Jim Illig told me that he just got there and he was trying to raise money through the government and grants. He'd been working on a grant and someone would come over the loudspeaker and announce that some volunteers had not shown up. They needed people to go out and deliver the food. Jim was thinking," wait a minute. that's not my job." Did that ever happen to you? Tom Nolan Larry, my partner of 43 years, and I, delivered meals one day that I remember in particular. Between Market and Folsom street, we delivered 70 meals, the two of us, and they're all hot meals. We'd go into these single room occupancy SRO's, with the shaky old elevators, and people really sick. I delivered a lot of meals at one point. I delivered on every single route in the city, as a way to see what the work was all about. I used to tell the staff and volunteers, "some days will be very hard for all kinds of reasons, but at the end of every day, we are doing something very good and very important." It's a compelling vision. It touches deep in your heart. And it's so simple and basic, and magic, really.
Sean Elder

Tom, can you, can you say a little bit about how Project Open Hand expanded its mission, when that happened and why? You went from serving people afflicted with AIDS and HIV to breast cancer and all kinds of other populations.
Tom Nolan

We bought the building at 730 Polk Street. We had a capital campaign and raised seven and a half million dollars to buy it and to renovate the first two floors, including the kitchen and the grocery center. We had a lot of space there we wanted to rent out, and we were willing to rent to almost anybody. Luckily, Shanti came along a very similar mission to ours, and also the Asian Pacific Islander Wellness Center. Very soon our building was the hub for people living with HIV and AIDS in San Francisco. That helped pay the rent for us. The Salvation Army had been providing senior meals in the city at 22 different sites. They decided that they were not going to go along with the City's domestic partner benefits, so they turned in the contract and we bid on it. All of a sudden, we're in the senior business. And then in 1996, the protease inhibitors started making a big change in people's lives. Thank God that happened. We knew there were other people suffering, from cancer and heart disease and all kinds of things. According to our strict mission at that time, we really couldn't serve them. But the question came down to if we could, without harming the basic mission, feed people and not ignore our core AIDS HIV mission. And why wouldn't we, if we could? Ruth was terrific at anticipating the changes. She always expected it. At the time that Project Open Hand had been around for a couple of years, Margaret Heckler, President Reagan's Health secretary, thought the threat was eventually going to go away. So, Ruth thought there'd still be a need for nutritious meals, to support people with heart disease and diabetes and other diagnoses. Ruth was very, very supportive of the transition. It was pretty controversial at the time, though. Some thought that we were abandoned in the gay community, abandoning our AIDS clients. But we weren't, you know. We told our story and we did lose a few volunteers, but not very many, really. We held a number of town hall meetings and explained why we were doing it, but really came to the question: If you can help others, without sacrificing the people you serve, why wouldn't you do that? We were the first in the country to do that. Most everyone was excited as well, because it's just part of the mission. "Meals with love." Ruth said it first in 1985 and it still made sense in 1999, even as conditions changed. That's the magic of this organization, that folks are willing to change but never abandon the fundamental mission.
Sean Elder

Most of the people I spoke to were people like yourself, or they knew Ruth, or people who have been volunteering there for a long time because of her example. There was a volunteer I spoke to, who was HIV-positive. He told me that Ruth was an example to him of someone not letting fear get in the way of offering help. In those early days of AIDS, people didn't know how it was spread, how it was transmitted. There was incredible paranoia about it. And people constantly asked Ruth, is what you're doing safe? Ruth would reply, "I'm helping people. How can this be bad?" I think there's a little bit of that DNA that continues in the organization today, including the incredible work that you all did during this current pandemic.
Tom Nolan

I remember going into the hospital room in 1987 or 1988, and having to wear a gown and mask and gloves and all of that" "don't touch anybody." People then were afraid to touch anybody. Some of our clients had been kicked out of their homes because they were gay and they got AIDS, and they never heard from their family until the family came to clean out the apartment. The courage factor here is very important and Ruth exemplified that. A little old grandmother, she called herself, but look what she did.
Sean Elder

A lot of people had come to San Francisco to be themselves, to be "out." And a lot of them had been disowned by their families. They couldn't call on them for support. Yet their new family, the members of this community were the ones who reached out to help them. That to me is a real San Francisco story. I think that's probably that's part of what makes Project Open Hand bigger than just the organization. Tom Nolan It was a real community and still is through all these years. Some volunteers had been there for 25 years and it was amazing. We used to have a volunteer appreciation party, people. And the group would come in on Tuesday mornings or whatever day to work in the kitchen or the grocery center. And they became very close and they still are to this day. I've actually been in their homes with a few things with them. It just brought them together. They never would have known each other otherwise. It was a wide variety of San Franciscans involved in this, gay and straight, rich and poor or young and old, or famous and struggling. It was really powerful. It felt good to be there, with Ruth as the inspiration. Ruth was such an asset to the organization. People would give her a standing ovation. But she was not intimidated by it in any way, that she was a, she was a star. She was mentioned in Time magazine, in The New York Times and on television quite often. But it didn't faze her. I always went to her. We talked about it and having her blessing was extremely important, not only to me, but to others as well. She's the most remarkable person I've ever met in my life. I was actually privileged to be with her the day she died, in the nursing home. Our development director went over that day and sat by her bed. She didn't know we were there, but it was a special moment in seeing this incredible person and getting ready to pass. She was a strong Buddhist and she, um, you know, a good, a good soul in every way. I was glad to be with her that day as well. She had a wonderful service at City Hall. The mayor spoke and the SF Gay Men's Chorus were there. come and speak and gay men's chorus was there. Several hundred people came to it. It was loving tribute to an extraordinary woman. I'd like to close by saying something to the audience about this book. I've already told Sean this, but the book is extremely well written. It was really evocative of those times, but a wide variety of voices are in it. I would recommend everybody to get a copy of it and to read it, just to remember those early times. And if you didn't know Ruth, you will feel know her. I'm just very proud to be part of that and really glad you're doing this.
Paul Hepfer (Emcee)

Sean, how is writing this book in 2020 different for you, as opposed to writing it in another year?
Sean Elder

I probably would've done more interviews in person rather than using this format. There's something about celebrating the legacy of a person like Ruth, of trying to dig in and sort it all out, because there's a mystery at the heart of it. How do you find out who's got the threads that are going to make you understand this person better? Everyone would agree. She was remarkable. She did great work. I mean, Mother Teresa came to San Francisco and said nice things about her. She was a saint and saints are very hard to write about. What made her an actual person? It was really talking to Tom, but also talking to Ruth's daughter Lisa that helped. Lisa gave me a little bit of an idea of her mother before she came to San Francisco. She came from South Dakota and moved to Los Angeles at a time, the early sixties, when California was in a very interesting place and it kind of opened her mind to a lot of things. She read Autobiography of a Yogi by Paramhansa Yogananda and she read Huxley and it was just kind of tuning into a different way of the wavelength that was happening at the time. By the time she got to San Francisco, when things were exploding, she understood that there was something interesting going on. There are a lot of these people who were much younger than her, who weren't used to somebody that looked like their mother or their grandmother and being supportive of it. She ran a little antique store in North Beach and hippies would come in and talk to her. She took her daughter to the Fillmore, the Avalon, to see Janis Joplin and the light shows. Here is somebody who was open-minded. With that open-mindedness came a tolerance and an open-heartedness when there was a crisis in the gay community.
To obtain a copy of Open Hearts, please make a donation of $85 or more at https://one.bidpal.net/pohbook/browse/donation(details:item/1)