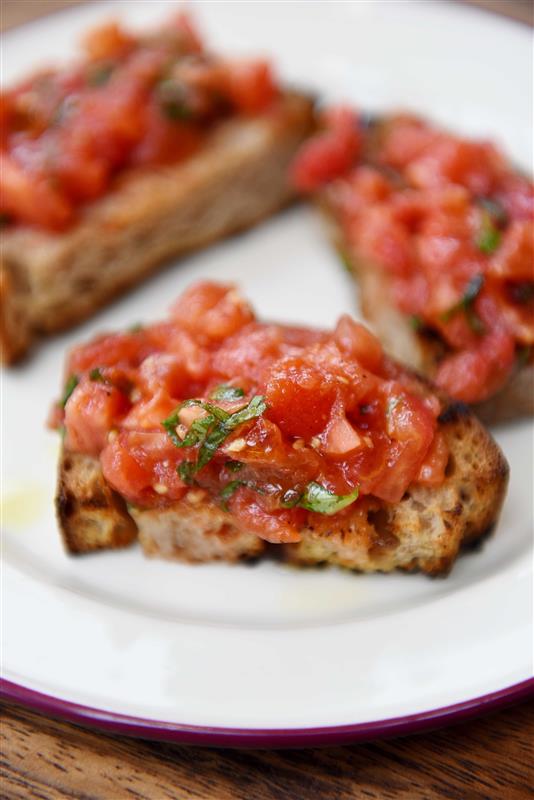 Yield: 10-12  
Ingredients  
· 1 cup Roma or cherry tomatoes, chopped  
· 2 tablespoons diced red onions  
· 2-3 large clove garlic, minced (optional)
· 2 tablespoons fresh basil, chopped  
· 1/2 tablespoon lemon juice + zest or balsamic vinegar  
· 1/4 teaspoon salt  
· freshly ground black pepper, to taste  
· ½ cup green onions, chopped, optional  
Bread/Toast:  
· 2 tablespoons olive oil  
· 1 teaspoon garlic salt  
· 1/2 loaf French baguette or crusty Italian bread, preferred  
· 1/4 cup Parmesan cheese  
Instructions  
1. Preheat oven to 350°F. Combine remaining 1-1/2 tablespoons oil with the garlic salt.  
2. Brush entire surface of both sides of each slice with olive oil mixture. Sprinkle with Parmesan cheese. Bake until crisp and firm but not browned, about 15 minutes. Remove from oven and let cool.  
3. While bread bakes, combine tomatoes, red onion, garlic and basil in a medium bowl. Add 1/2 tablespoon of lemon and zest, salt and pepper and mix well. Cover the bowl and refrigerate for one hour.  
4. Spoon the chilled tomato mixture onto bread slices.  
5. Garnish with cilantro or green onions, if desired. Serve immediately.  
Variations:  
· Drizzle with balsamic glaze  
· Sprinkle with feta cheese or crumbled goat cheese  
Additional tips:  
· Best when you use fresh, room temperature tomatoes. It's also important to set aside a little time to allow the tomatoes to sit with salt. As the fruits sit, they become extra flavorful. They also release some of their juices, which is perfect for spooning onto the bread later.  
· Halve tomatoes then remove and discard the majority of the seeds. Chop tomatoes into 1/4-inch chunks then add to a medium bowl with a generous pinch of salt, small pinch of black pepper, 1 tablespoon of the olive oil and the basil. Stir and let sit 10 minutes.  
· Stir the tomatoes one more time, taste then adjust with more salt or pepper as needed. Spoon a generous amount onto each bread slice. Drizzle a little of the juice remaining at the bottom of the bowl over tomatoes and enjoy.