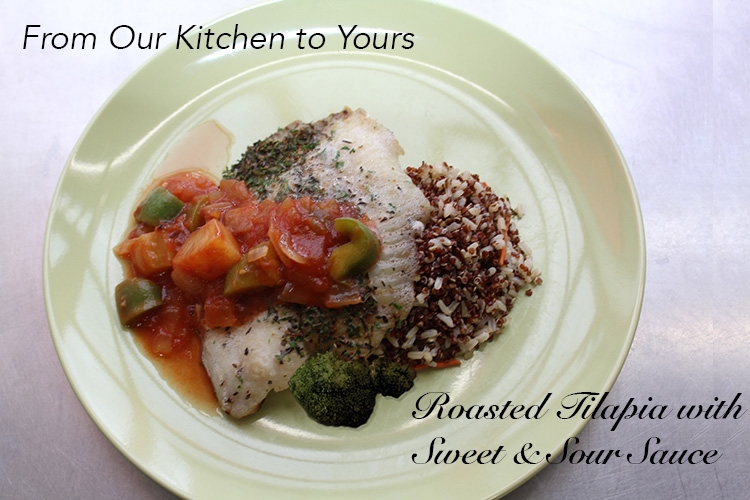 Roasted Tilapia with Sweet and Sour Sauce
Add this special dish to your recipe collectin
Ingredients 
• 12 oz. Red Onions, ¼" Diced 
• 8 oz. Green Peppers, ½" Diced 
• 2 Garlic Cloves, Fine Diced 
• ½ oz. Fresh Ginger Root, Fine Diced 
• 10 oz. Diced Tomatoes, Canned w/ Juices 
• 3 Tbsp. Rice Wine Vinegar 
• 2 ½" Tsp. Lite Soy Sauce 
• 8 oz. Pineapple Chunks, Cut into ¼" Pieces 
• 2 Tbsp. Salt & Pepper Mix 
1. In a medium sauce pot, heat oil. 
2. Add onions and slowly sauté for 5 minutes. Add green peppers and garlic and ginger. Slowly sweat onions for a few more minutes. Add diced tomatoes, vinegar, soy sauce, OJ and ketchup. 
3. Stir well to mix sauce and allow to simmer for 5 minutes on low heat. 
4. Mix corn starch with ½ cup water and add to sauce to thicken. Simmer for 2 minutes and remove from heat. 
5. Spread tilapia filets onto a greased sheet tray and season with salt and pepper mix. 
6. Put tray into pre-heated oven at 350° and roast for about 
10 minutes or until fish is cooked through and turns opaque. 
7. Toss the broccoli in oil and season with a pinch of salt and pepper mix. 
8. Spread onto a greased sheet tray and roast for about 
8 minutes. The roasted broccoli should smell great and still be crunchy to the bite. 
9. For service, spoon 4 oz. of broccoli on center of plate. 
10. Place roasted tilapia over the rice and broccoli in the center of the dish, and spoon sweet & sour sauce over fish and around edges of plate. 
11. To add a starch component to your dish, add brown rice or Quinoa pilaf. 
Roasted Tilapia – Nutrient Content 
Sweet & Sour Sauce – Nutrient Content 
Broccoli – Nutrient Content