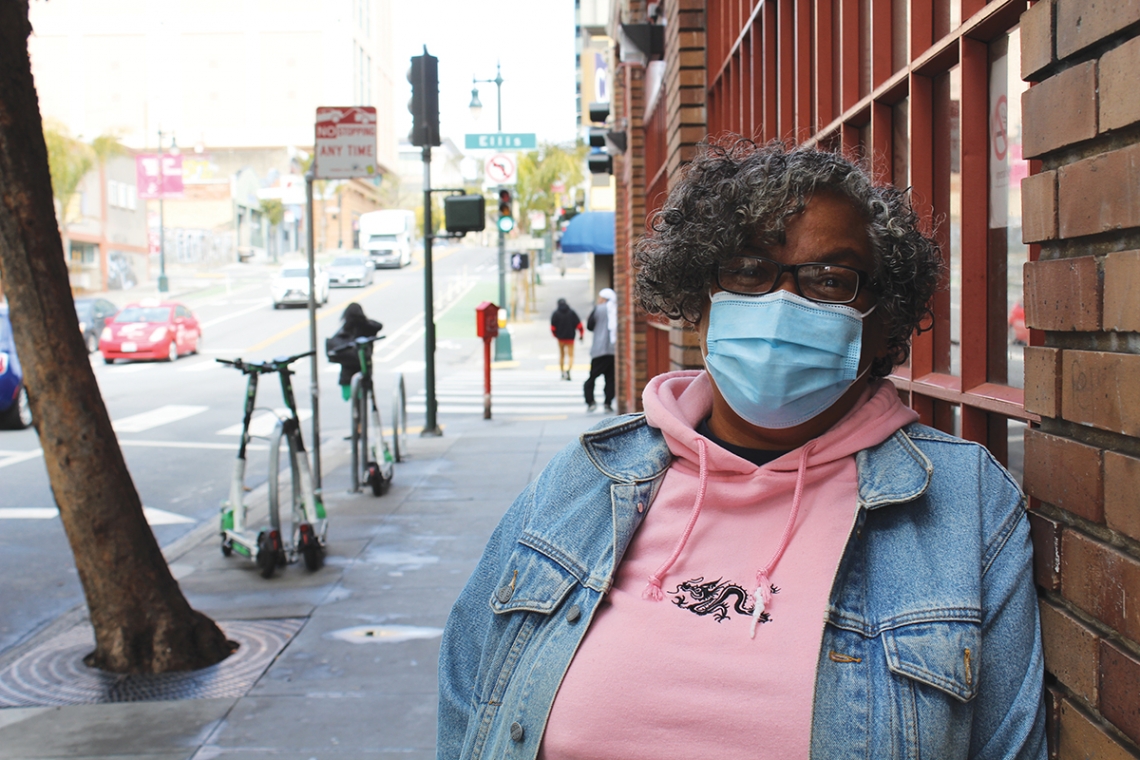 The year was 2001 and Angela knew she was at a crossroads in her life.
She worked as aBranch Manager at a bank in her hometown of Columbus, Ohio and her salary afforded her to live comfortably and take care of her three teenage sons.
Her supervisor was priming Angela to take over his position as Vice-President. But although the new role would advance her financial career, her passion was in art. "I knew right then and there,If I go one step further in this company, I'll never be an artist, so I quit and followed my passion," Angela said. "I quit everything and went to the Columbus College of Art and Design."

Although the decision to go back to school was a difficult one that included a lot of sacrifice, she knew it was the right one.
"I learned a lot of discipline in art school. You have to learn the fundamentals - that's why you have to do everything. If you're not a painter, you still have to go to paint classes. If you're not a drafter, you still have to go through drawing classes."
She eventually focused on photography, and after she graduated in 2008, she made another big decision. Because her kids were now adults and were able to take care of themselves, she packed her car and moved to San Francisco's Tenderloin neighborhood to follow her path towards being an artist. And it paid off. Angela had her photographs published in the San Francisco Chronicle. Her work was also displayed at galleries like 6th on 7th Gallery in San Francisco. 
Everything was going well for her, until April of 2020. 
During a workout session, Angela was feeling extremely weak. She tried to drink more water, but it wasn't enough. Something didn't feel right.
"I couldn't get enough water. My body felt like a desert inside. I was so thirsty," Angela said.
She spoke with a nutritionist from her doctor's office, who recommended she visit her doctor who did a blood and urine test. Finally, when her doctor called her with results, Angela realized her condition was severe.
"The doctor calls me on a Monday and said, 'Angela, you're a strong woman and you have a strong body. But I want you to hang up the phone, get your phone charger, and get to the emergency room.' When I got to the hospital, the doctor put me in the ICU," she said.
Angela's blood sugar level was at a dangerous 1,000. She had to stay in the ICU for three days where she was given an insulin drip and they pumped fluids through her to bring her levels back down.
"My diet was not good. I love sugar. I was drinking soda and eating ice cream all the time. I never paid attention to what I ate," she said.
Angela's sweet tooth had finally caught up to her. She was diabetic, and now had to rely on insulin and medication to control her sugar levels. During her next visit to her doctor's office, the nutritionist there told her about Project Open Hand's services. Angela quickly signed up with a referral. Upon her arrival, she immediately noticed the COVID-19 safety protocols at Project Open Hand – the social distancing, the plexiglass barriers, masks, hand sanitizers, and efforts to protect clients from any surface exposure.
"I feel safe. POH makes me feel safe, "she said. "They have everything prepared for you. And I see them wipe down surfaces. I don't feel threatened. Everything is spread apart. I don't have to touch anything except for the grocery bag."
Since the beginning of COVID-19 till the end of February 2021, Project Open Hand has given 1,323 bags of groceries and 36,465 frozen meals to its diabetic clients.
In that time, Project Open Hand has served 1,100 diabetes clients in San Francisco and Alameda counties — 542 Of them were new clients like Angela. When Angela first arrived, she met with a Project Open Hand Registered Dietitian Nutritionist and discussed a nutrition plan.
"I was on death's bed. I was destroying my body without even knowing it, but now I'm helping my body. When I came in, they educated me about portions and what I should eat more of and eat less of," she said. Angela, who comes to the Project Open Hand grocery center in San Francisco every Friday, said the selection of healthy foods, like eggplant and squash, and the continued nutrition education she receives has had immediate effects.
She has more energy, and along with her medication, is now able to control her sugar levels.
Twenty years ago, Angela went to art school to learn the fundamentals of being an artist. Twenty years later, she had to learn the fundamentals of eating right.
"I am so fortunate to have the support of Project Open Hand, from its staff to its access to food.
They've helped me retrain my brain, and that feels good."