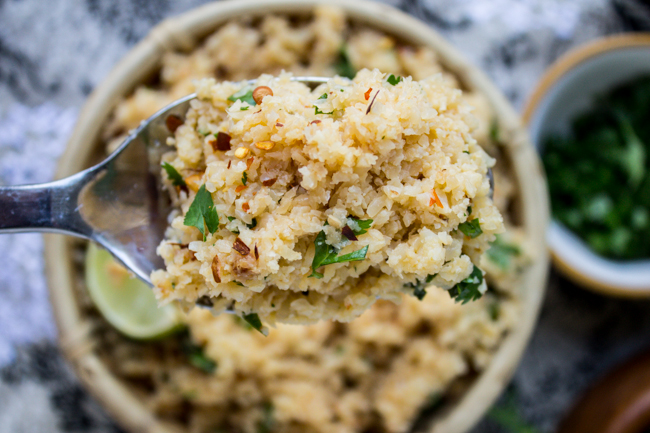 Cauliflower Fried Rice
Fried rice with a healthy twist! 
Below is our delicious recipe so you can recreate this meal with love in your own home. 
Ingredients (Serves 2)
1 large cauliflower head
2 large eggs
1 bag of GC broccoli florets
4 pearl onions
2 large carrots
1 tablespoon reduced sodium soy sauce
2 garlic cloves
1 tablespoon sesame oil
1 teaspoon ground ginger
2 tablespoons vegetable oil
¼ teaspoon white pepper
Directions
Blend cauliflower in a food processor or blender until it resembles the texture of rice (about 2-3 minutes), then set aside. Process for less time if you prefer a chunkier texture.
Note: grate cauliflower using a cheese grater if you do not have a processor or blender).
Mix soy sauce, sesame oil, ginger and white pepper in a bowl and set aside.
Beat eggs until scrambled in a small bowl.
Heat 1 tablespoon vegetable oil in a medium skillet then add eggs. Once cooked, remove from heat and dice eggs in small pieces.
Heat remaining tablespoon of vegetable oil in a large pan. Sautee onion in pan for roughly 3 minutes then add broccoli and carrots and cook until vegetables are tender.
Stir in cauliflower, eggs, onion, and soy sauce mixture until cauliflower is tender (roughly 4 minutes), stirring occasionally.
Remove from heat and serve immediately.
Other Vegetables to Add: corn, peas, zucchini, mushrooms, bell pepper, celery, bean sprouts, cabbage, green beans.
To Cook in a Rice Cooker: Layer in the following order: oil, garlic, onion, cauliflower, carrots, broccoli, egg, soy sauce, sesame oil, ground ginger, and white pepper. Cook for 1 cycle and stir. Cook for another cycle if needed.