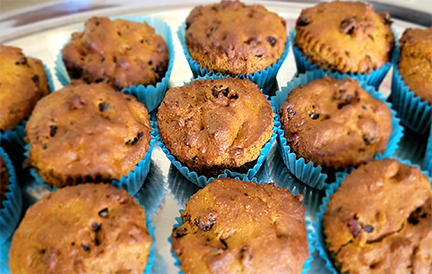 Cinnamon-Spiced Pumpkin Muffins
Ingredients
1 cup pumpkin puree
2 large eggs
1/2 cup brown sugar
3 tbsp. vegetable oil
1/2 cup greek yogurt
2 tsp. spiced mix (equal parts cinnamon, nutmeg, all spice, & cloves mixed)
1 tbsp. molasses
1/2 tsp. salt
1 cup dried cranberries
1 1/2 cups whole wheat flour
1 tsp. baking powder
1/2 tsp. baking soda
2 tbsp. granulated sugar and 1 tbsp. spiced mix - combined (optional topping)
Directions
1. Line 12 wells of a standard muffin pan with papers and spray with nonstick spray.
2. In a large bowl, whisk together the pumpkin puree, eggs, brown sugar, oil, molasses, salt, spice mix & yogurt.
3. Whisk the flour, baking powder and baking soda together. Stir in the dried cranberries. Add dry ingredients, all at once to the wet ingredients and whisk mixture until all the ingredients are combined.
4. Cover the bowl and let the batter rest for 30 minutes while you preheat your oven to 375 F.
5. Deposit the batter by the generous 1/4-cupful into the lined pan. Sprinkle the top of each muffin with a little granulated sugar or Swedish pearl sugar (optional).
6. Bake the muffins for 20 to 25 minutes, or until a toothpick inserted into the middle of a center muffin comes out clean, if more time is needed.
7. Remove the muffins from the oven, and tilt them in their individual wells to cool. This prevents their bottoms from steaming and becoming tough. Serve warm or at room temperature.