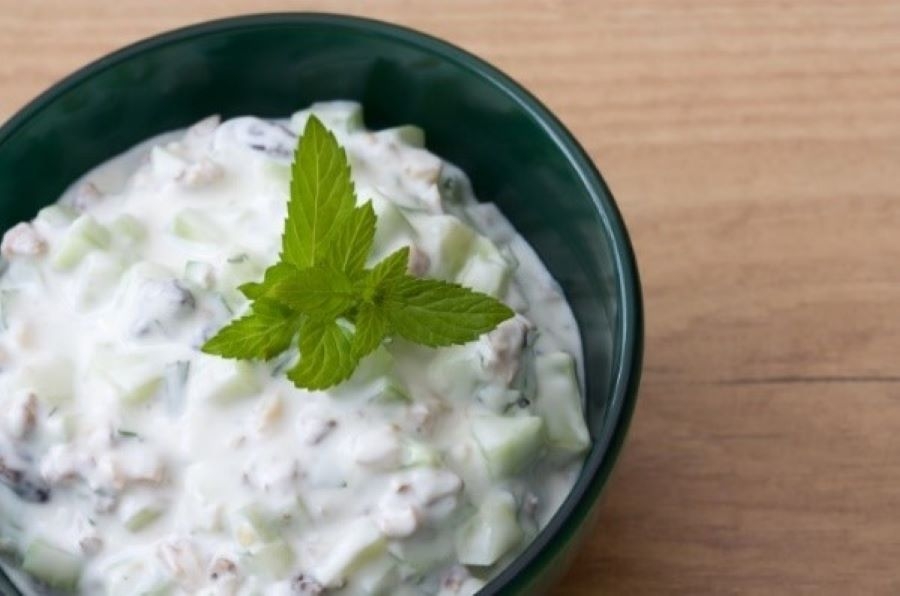 Cucumber & Herb Yogurt Dip
Serves 2
Ingredients
1 cup cucumber, ¼" diced or shredded
6 ounces yogurt, plain
1 teaspoon lemon juice & zest
1 tablespoon onion, caramelized
1 teaspoon garlic, crushed
1 tablespoon parsley
1/2 teaspoon cumin
1/2 teaspoon coriander
Dash of Tabasco, optional
Salt and pepper to taste
Directions
Shred cucumbers and sprinkle with a teaspoon of salt.  Place in a colander for about 20 minutes. Squeeze out extra water with a paper towel or leave overnight.  Transfer to a bowl. 
Chop onions into ½" dice.  Sauté over low to medium heat with oil until soft and deeply golden brown, about 30 minutes, stirring constantly. Add water if it's too dry. 
Combine all ingredients and mix until creamy.  Adjust seasoning to taste.
Serve chilled.
Dip vegetables in sauce such as broccoli, celery, carrots, cucumber, bell pepper, and zucchini, or top in soup or salad- the list is endless!