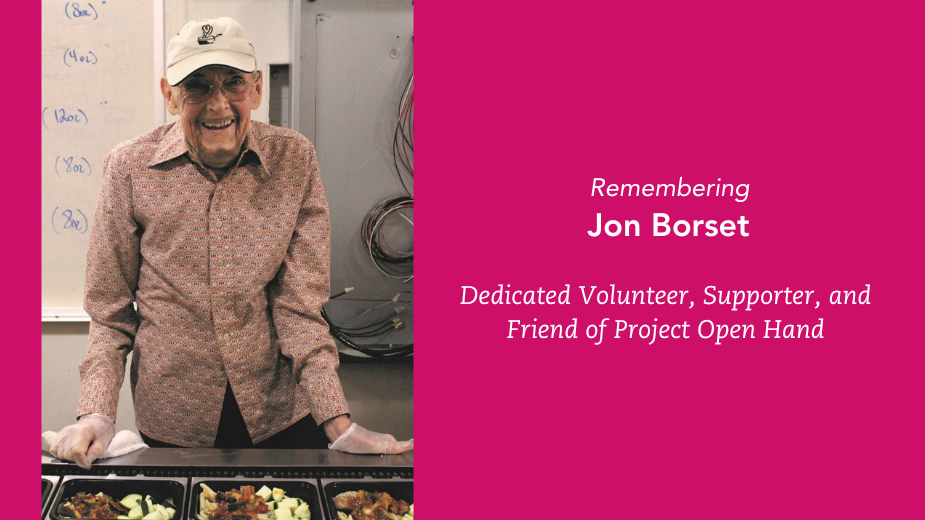 Project Open Hand is deeply saddened to share the passing of our beloved volunteer and friend, Jon Borset, on Saturday, July 8, 2023. Jon was one of Project Open Hand's most dedicated volunteers and supporters.
Jon began volunteering at our organization in 1985 after receiving a notice that Project Open Hand founder, Ruth Brinker, put out to find volunteers for Christmas Eve gift deliveries to clients. He spent the next ten years delivering weekly meals (often by foot) from our former site at Trinity Church, serving clients in Pacific Heights, the Marina, Nob Hill, and the Tenderloin.
When he retired in 1995, Jon committed to volunteering full-time, working six days a week in the kitchen, grocery center, delivering meals, and helping anywhere else he was needed. Project Open Hand team members and volunteers who knew him well fondly share how his passion for feeding our community and caring for others was an inspiration to everyone who met him.
A celebration of life was held in Jon's honor at Project Open Hand's San Francisco Grocery Center on Wednesday, August 9, where friends, family, staff, and volunteers gathered to share and remember his boundless compassion and enormous impact on Project Open Hand.
Thank you, Jon, for sharing your life and spirit with us. Read Jon's full obituary here.
 
Jon was featured in a 2019 edition of our newsletter, MealTimes. Learn more about his life and legacy in the feature.
If you have a story you would like to share with us about Jon Borset, please contact Kimberly Kollwitz, Manager of Marketing and Communications, at [email protected].