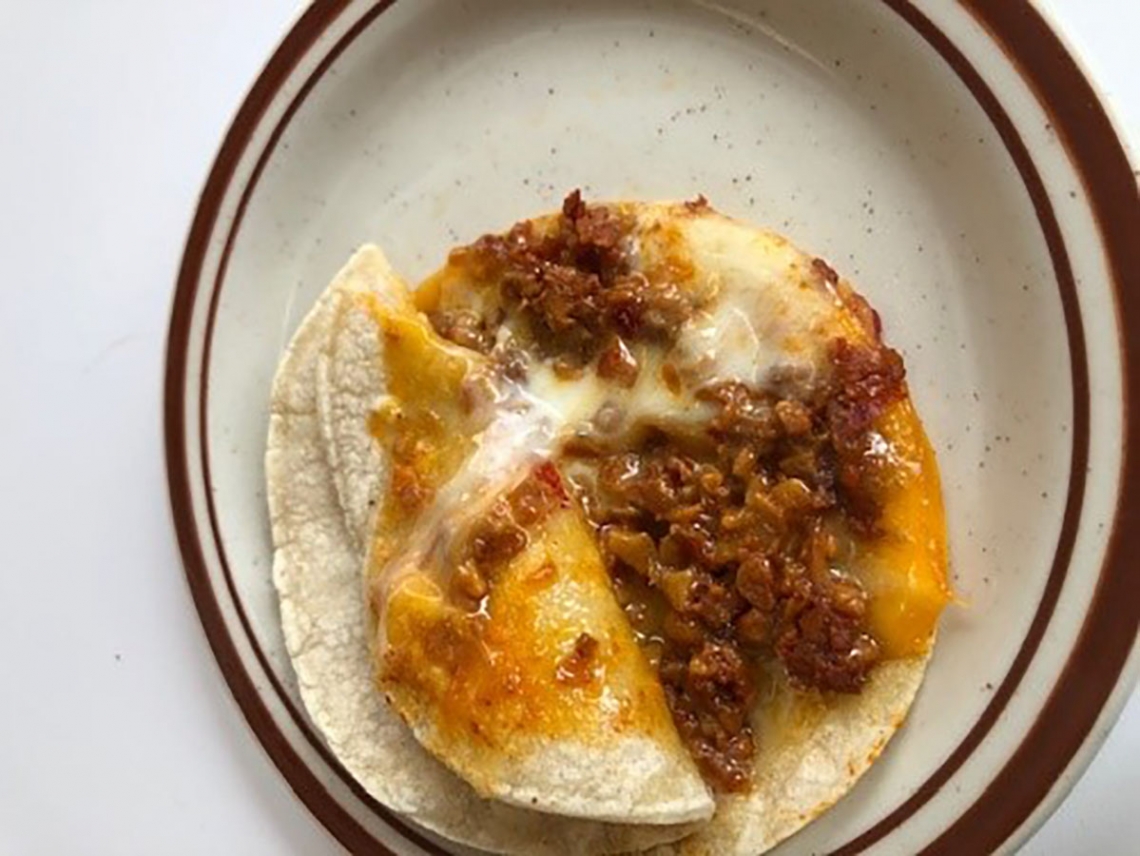 Roasted tempeh quesadillas
This recipe was created by Project Open Hand staff member Gloria Madlansacay, Food Quality and Innovations Project Manager, Nutrition
Ingredients for Quesadillas (serves 24 x 6" quesadillas)
48 each 6" Corn Tortilla 
16 oz Cheddar, grated
8 oz Monterey Jack cheese, grated
Ingredients for Roasted Tempeh:
1 lb. Tempeh, crumbled 
3 tablespoons Nutritional Yeast 
Ingredients for Home-made Red Sauce:
1 ¾ cup Vegetable broth 
3 pods Guajillo Chili, dried and deseeded
1 medium onion, diced
3 cloves garlic (or 1 Tablespoon, minced)
½ teaspoon cumin
½ teaspoon coriander
¼ teaspoon chili power
½ teaspoon garlic powder
2 teaspoon Bragg's Liquid Aminos or 1 ½ teaspoon Soy Sauce or to taste 
¼ cup store-bought Salsa, if preferred
Directions to Roast Tempeh:
Preheat oven to 400F. Cut tempeh into small pieces, with your hands or crumble using a food processor. Toss with Nutritional Yeast. Spread evenly into a sheet pan and roast for 20-30 minutes, turning mixture halfway to get an even crunchy texture. Set aside. 
Directions for Home-made Red Sauce:
While tempeh is roasting, bring broth and deseeded Guajillo chili peppers and rest of ingredients to a boil. Once boiling, lower heat to a simmer. For concentrated flavor reduce broth to about 1 cup simmering for at least 20-30 minutes. Let cool for about 10 minutes before puree using an immersion blender. If more texture is preferred, sauté onions, garlic and spices separately and then combine after pureeing chili broth. 
Add roasted tempeh to pot of sauce and mix well. Let simmer for another 15 minutes. Turn off heat. This yields 2-1/2 cups Crumbled Tempeh mixture.
Directions to Assemble Quesadillas:
Pre-heat oven to 400F. Lay 12-6" quesadillas in a sheet pan. Sprinkle lightly with grated cheese mixture. Top with 1-1/2 tablespoon tempeh mixture and spread evenly. Sprinkle with grated cheese mixture. Top and cover each with another 6" tortilla. Bake in oven for 10 minutes or until cheese has melted.