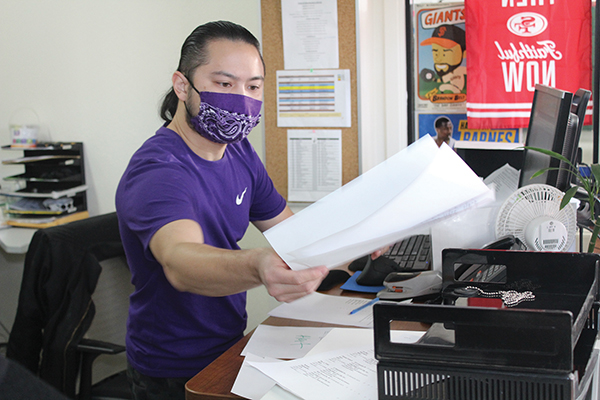 Steven Arboleda is a dispatcher at Project Open Hand, and he has one daily goal in mind – successful delivery of medically-tailored meals and groceries to Project Open Hand clients. It sounds easy, but it's actually a complicated "orchestra" of moving parts with Steven as the conductor. Every day Steven supervises a staff of eight delivery drivers and a host of volunteers. He creates route sheets for each of them, organizes all the meals for delivery, including important information about each client. Is the client mobile? Is the client home? Do you have to call the client before a delivery?
He will do whatever it takes to ensure a successful delivery, because for Steven his job goes beyond just caring for the community. He is giving back to the neighborhood he grew up in.
Steven, a San Francisco native, grew up just blocks away from Project Open Hand's office in the Tenderloin District. He has seen the neighborhood change throughout the years. 
But the one thing that he knows is constant is that there are people who need access to life-saving nutrition in the Tenderloin and neighborhoods across the city.
"The work we do down in distribution is the main staple of Ruth Brinker's vision, back when she was delivering meals to her handful of neighbors at the beginning," Steven said. "What she started has trickled down to us." Steven started at Project Open Hand five years ago as a driver. At that time, he learned every route and figured out how to create better efficiencies in meal delivery. But the one thing he took away during those days of being a driver – the connection you create with the clients. "I created a bond with the client. As a driver, you see these clients almost every day, and they get to know your face," he said.
But that familiarity between driver and client was threatened when COVID-19 and the restrictions that followed hit the Bay Area last March.
And for Steven, he knew the impact would be felt by the clients because the visits by the delivery drivers were the only form of human interaction.
"There are some clients that just want to speak with us for five minutes, because we, the driver or volunteer, may be the only person they see all day. We do get clients who love to talk, and now we're just limited because we have to be safe," Steven said. "It's kind of sad, because it's part of what we do. We're not just here to give food. We're also addressing social isolation."
Although interaction with clients had restrictions, the delivery of meals and groceries continued, and the demand increased.
Prior to March 2020, Project Open Hand averaged 523 deliveries a week. Since then, Project Open Hand has seen that number increase to 750 deliveries a week.
"When COVID-19 hit, there were so many things changing daily, but you had to adapt. Eventually we got into a flow and we responded really well."
Steven, who now lives in the city's South of Market, said that he will continue to adapt and do what it takes to make sure clients receive their deliveries of nutritious food every day.
"I've worked at jobs before where I just worked. Here, at Project Open Hand, the mission is different. I feel like there is more purpose to what I do. I'm doing something good," Steven said.
And doing good is the most anybody can do for their neighborhood.