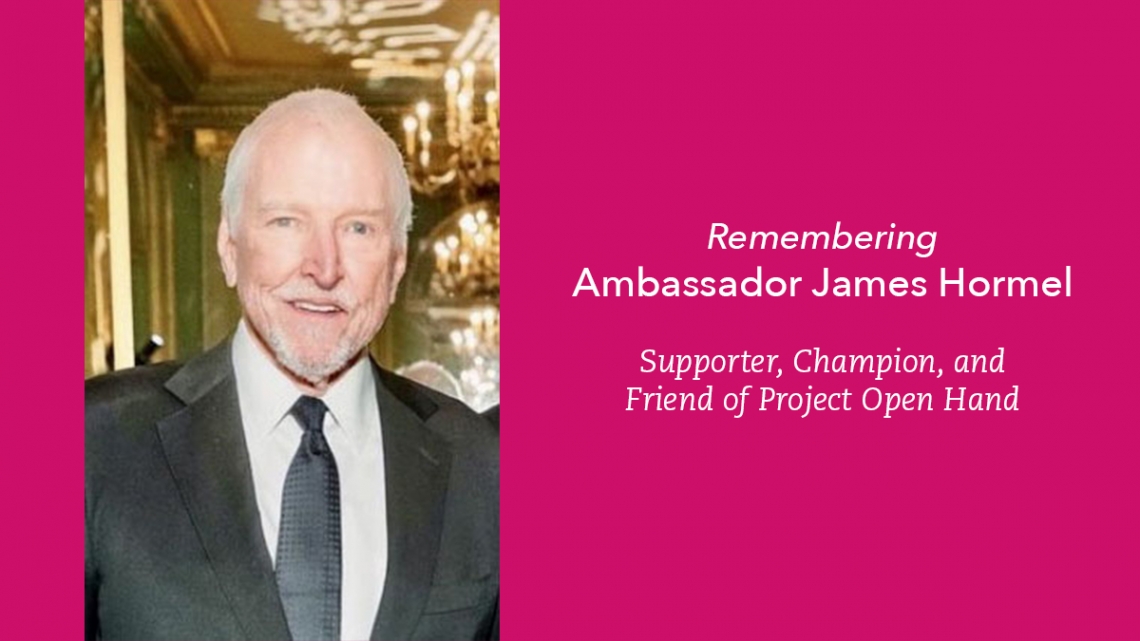 Project Open Hand was deeply saddened to learn of Ambassador James Hormel's passing on August 13, 2021. Hormel passed away Friday morning, at the California Pacific Medical Center on Van Ness Avenue, listening to Beethoven, with husband Michael Nguyen at his side. He was 88.
Ambassador Hormel was one of Project Open Hand's staunchest advocates and supporters and served as an inspiration for the LGBTQ community by serving as the United States' first openly gay ambassador from 1999 to 2001. He was an incredible philanthropist to multiple Bay Area organizations and causes, Project Open Hand among them, where we were fortunate enough to call Ambassador Hormel a supporter and friend since 1987.  



"James Hormel was a trailblazer whose impacts will be felt in San Francisco for generations," Mayor London Breed stated. "All across the city, we can see the impacts of his life, whether it's in important institutions he supported like the AIDS Memorial Grove or our public library, or in the young people walking down our streets who live in the wake of his courage and activism." 



At our Hand-to-Hand celebration last year, we awarded him and Michael the Ruth Brinker Visionary Award for their lifetime of dedication and service to our organization. The description states that: 



"The spirit of Project Open Hand is embodied by the selfless dedication and generosity of many individuals who, from the earliest days, have contributed their time, their energy and their resources to ensure that the mission of Project Open Hand would continue. Given in Ruth's honor to someone that has done so much to help those in need, the Ruth Brinker Visionary is recognized for work as a philanthropist, volunteer and community leader that has touched countless lives, making an impact on the Bay Area and beyond." 

 
It was an honor to recognize Ambassador Hormel's commitment to our organization and his incredible lifetime of selfless service to humanitarian causes and people in need.  



Ambassador Hormel's contributions and belief in Project Open Hand's mission of serving Meals with Love are forever part of our foundation, and we are honored to include his memory in our orgnization's legacy. We will continuing sharing his ideals of equity and compassion for those in need, and send our heartfelt condolences to his family and the greater Bay Area community. 



If you have a story you would like to share with us about Ambassador James Hormel, please contact Paul Petrequin, Director of Advancement, at [email protected].
(Ambassador James Hormel and Michael P.N. Hormel receive Ruth Brinker Visionary Award at our 2020 Virtual Hand to Hand Gala).