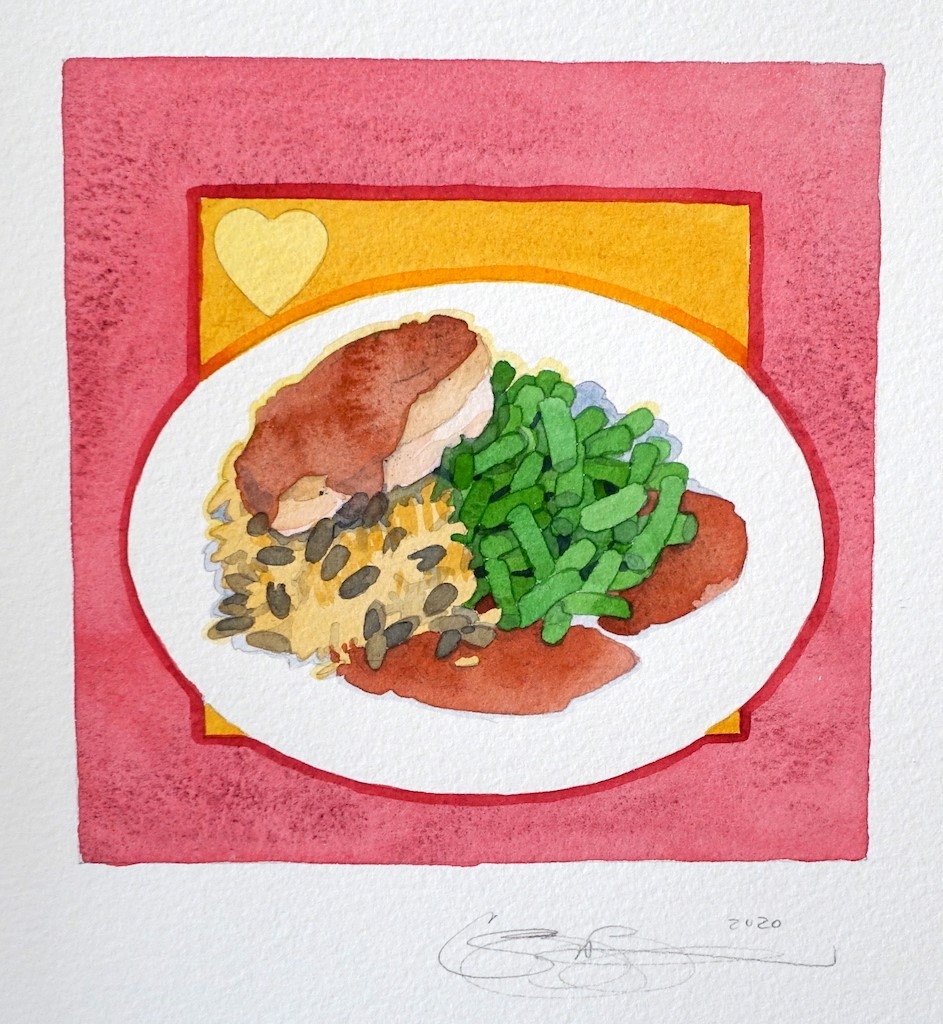 Directions
Red Mole Sauce
4oz. Pork chops - 8 each
3 tbsp. oil
1 tsp. Garlic minced
14oz. Onions – 1/4"  diced
1oz. tomato paste
7oz tomatoes – drained & pureed
1oz. red wine vinegar
5 oz. enchilada sauce, canned
1Tbsp. Dijon mustard
1.5 tsp. chili powder
1.5 tsp. paprika
1.5 tsp.Cumin, ground
1.5 tsp cloves, ground
1 ea. Bay leaf whole
7oz. water
Make the sauce day before so the flavor develops.
Heat sauce pot over medium heat with oil.
Add garlic and onions to hot oil, stir and caramelize for 5 minutes. Lower heat.
Add dried spices and cook for another 5 minutes. Add vinegar to deglaze and reduce by half.
Add tomato paste and diced tomatoes.
 Mix and allow to simmer for 20 minutes, stirring   occasionally.
Add water and continue on a low simmer for another 20 minutes.
Add enchilada sauce and Dijon. Whisk into mixture and   simmer for another 15 minutes.
Sauce will continue to thicken and reduce.
When ready, remove from heat and puree. Chill and reserve for later.

Pork Chops
On a sprayed baking tray place pork chops apart.
Put 1/2 tbsp. of Red Mole sauce onto each pork chop and smear across pork chop to cover. Reserve remaining sauce to heat and serve with completed dish.
Cook pork chops in pre heated oven at 350*F for about 10 minutes.
Mole will become like a glaze over pork chop.

Brown Rice & Beans
4 cups Cooked  Brown Rice
1.5 cups Black Beans Frozen
1tsp. cumin, black pepper, & turmeric mixed
1cup water.
Place all ingredients in a medium sauté pan with cover, mix well and heat thoroughly in a hot 350* oven for about 8 to 10 minutes. 
Here at POH we  serve to our clients….
4oz. rice and beans in center of plate,
4oz. Sauté green beans,
1 piece of glazed pork chop,   partially over rice and green beans.
Finish plate with 2-3 oz. Mole sauce around plate.
Nutritional Analysis
Calories      469Kcal                  Sodium      343mg              Fat      23.2 gm
Protein       33gm                            Calcium    112mg               Iron     2.74mg
Carbs          16gm